Re:Cognition Health Honoured for Positive Impact in Growing Business Awards
We are absolutely delighted to announce that Re:Cognition Health won The Bridges Positive Impact award at the Growing Business Awards 2019.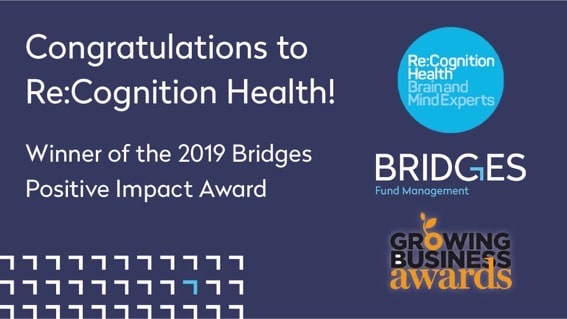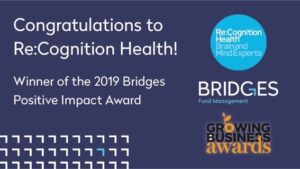 Re:Cognition Health was honoured for the positive impact the research and clinical trials programme is having on society, and the determination to solve the unacceptable problem of dementia. Every 3 seconds, somebody develops dementia and without an effective treatment, 1 in 3 people born today will die with dementia, creating the biggest, emerging, global socio-economic and health care crisis.
Through the five UK centres and one USA center, Re:Cognition Health is now the fastest growing company world-wide, providing people access to new generation medications for Alzheimer's disease, the most common cause of dementia. Our team is committed to paving a way for a future without dementia through research and education and we are so thrilled to be acknowledged in our commitment in these very prestigious awards.
The Growing Business Awards, which have been running for 21 years, celebrate the best of British business and last night honoured the UK's most outstanding entrepreneurs and high-growth businesses. The gala event was held at the Tower of London, where business leaders, innovators and entrepreneurs came together to celebrate resilience, vision and strength of fast-growing SME's.
The team of judges commented, "Re:Cognition Health is breaking new ground in the diagnosis and treatment of brain injuries. It is addressing a large and growing societal issue that causes huge distress and is expanding impressively across the UK and into the US."
Dr Emer MacSweeney comments, "With every clinical trial conducted, we come closer to understanding more about the causes of dementia and treatments. We are so excited to be part of a committed global team dedicated to clinical research and finding new-generation treatments to slow down, or halt the progression of dementia. Thanks to the Growing Business Awards for this prestigious award and congratulations to all of the amazing finalists and winners."